To Freedom Furniture,

On 26th of December, 2008, the day of boxing day sales, my mother, sister, and I went into your New Market shop.
I had already visited many times, and picked out the pieces of furniture which I would like to purchase.
To my surprise, none of them were marked for being on boxing day sale.

However, that's not important.
Just meant that I didn't have to wait till boxing day, and instead should've just ordered earlier.

I ordered three pieces of furniture:
1) A double bed with storage. $949
2) A vanilla-oak sliding bookcase. $699
3) An adjustable clothe hanger. $119
All fully priced, without discount.
I wanted them delivered on the 3rd of January, however the clerk said that the delivery company would still be on New Years Holiday.
Alright then, we pushed it till the 5th of January, and the clerk said that would be fine.

Approximately a week later, someone called to arrange for the date of delivery to be changed to the 6th of January.
Alright then, one more day of delay shouldn't disturb things, so we set the date for the 6th of January, sometime before noon.

Then came the day, when the furniture was delivered.
During the ride up the elevator, one of the delivery person said to me:

"You know we don't do assemble aye?"


............. NO I DIDN'T??
I was shocked, and my mother who was waiting in the apartment for the furniture was even more shocked when I told her as we came through the door.

"YOU DON'T ASSEMBLE?!"
"Yes ma'am, we only do delivery, if you want your furniture assembled, call up freedom furniture and they'll arrange for someone to come.
But they DO charge for this service."


"OH MY GOD, I AM REALLY UNHAPPY WITH THIS." - Mum.



I went into the store, I saw what I liked, and I ordered them.
I EXPECT THEM TO COME TO ME, IN THE FORM THAT I SAW.
ESPECIALLY WHEN NO ONE TOLD ME, THAT IT WOULD COME IN D.I.Y. KITS.

SOMETHING IS DEFINITELY WRONG WITH YOUR STYLE OF SERVICE.
YOUR CLERKS NEED TO SHARPEN UP.

DON'T TELL ME IT IS COMMON SENSE TO KNOW THAT BEDS AND BOOKSHELVES AND CLOTHE HANGERS COME IN D.I.Y. KITS.
I'VE ALREADY PUSHED MY SCHEDULE BACK ENOUGH, AND BECAUSE OF THESE KITS MY MOTHER AND I HAD TO WASTE THE WHOLE DAY, ASSEMBLING.
(WHILST GETTING SOME CUTS, AND MY MOTHER GETTING SOME BRUISES.)


MAYBE I SHOULD'VE JUST ASKED THE DELIVERY MEN TO TAKE IT BACK, BUT THEN I WOULD STILL BE CHARGED THE DELIVERY FEE.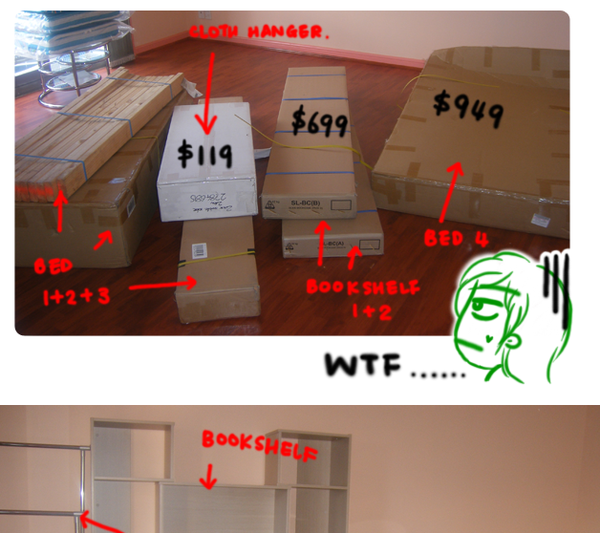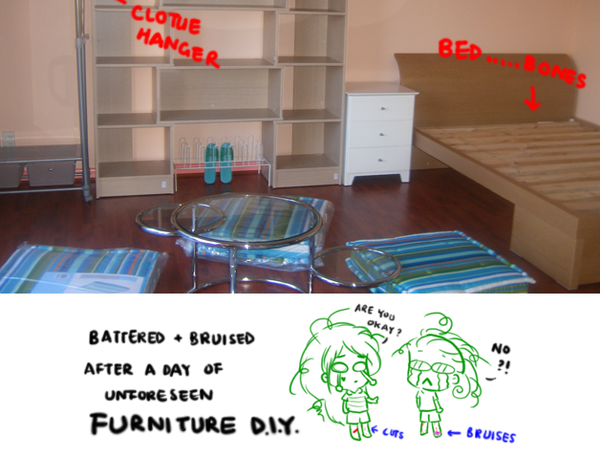 IS THIS FRAUD?!

I MOST DEFINITELY FEEL LIKE I'VE BEEN SCAMMED, RIPPED OFF.
FOR THIS AMOUNT OF DOLLARS - NOT CHEAP, NOT CHEAP AT ALL, NO DISCOUNT, I GET THREE D.I.Y. KITS?!

I AM DEEPLY UNHAPPY WITH THE SERVICE AND PRODUCTS PROVIDED.
AND I KNOW,
I WILL NEVER CONSUME AT FREEDOM FURNITURE,
EVER AGAIN.


PS: I ALSO DID NOT KNOW, THAT BEDS, DON'T COME WITH MATTRESSES.
I ENDED UP SPENDING ANOTHER $900 GETTING A MATTRESS.
- TOTALLY BEYOND MY BUDGET, BUT WHAT CAN I DO? SLEEP ON THE WOODEN SLACKS?!?!?!?!

HOW ABOUT INFORMING YOUR CLIENTS WHEN THEY MAKE PURCHASES? HOW ABOUT IT.

AND YOUR PRICES ARE MARKED WAY TO HIGH FOR BOXES OF D.I.Y. MATERIAL. DAMN IT.